Sorry -
A Week in Toledo

has already taken place. To receive details of next year's holidays - and priority consideration for booking - please join our Mailing List
A Week in Toledo - exploring six centuries of Spanish and English choral music
This will be our second visit to the cultural - and former imperial - capital of Spain. With fine examples of Roman, Moorish and Christian art and architecture, this walled city of Don Quixote and El Greco is only an hour away from Madrid.

The week will be directed by the popular David Ogden calm positivity encourages all singers to give of their best. Learn how to improve your vocal and choral skills while enjoying a great holiday in Spain with like-minded people.

Exploring a capella music by British and Spanish composers, we will use the choral music of six centuries to develop our concert repertoire.

The course will begin with supper at 7.30 pm on the Sunday evening with rehearsals starting in earnest on the Monday morning. The end of course concert will take place on the Saturday night with most people leaving for home on the Sunday.
Who is the course for?
This is not a Bring & Sing event. Participants should be experienced choral singers and must be prepared to learn their part beforehand. Nobody is expected to be note-perfect on Day One but familiarity with the music is expected and will add to everyone's enjoyment of the course. It also helps if you enjoy good food, good company and the occasional glass of wine. We all eat together most evenings in a selection of different restaurants where everyone will soon get to know each other. Our singing holidays have proved equally popular with people travelling on their own and singing couples.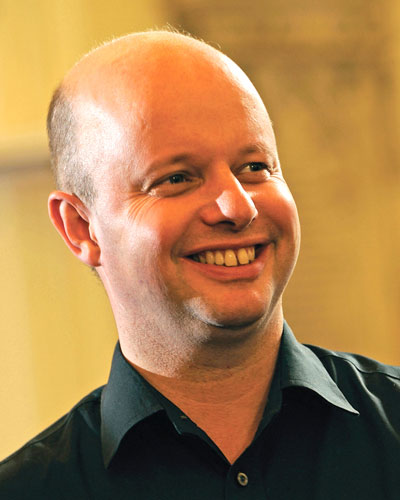 Musical Director
David Ogden is a professional conductor and composer. He conducts Exultate Singers, City of Bristol Choir, choirs at the Royal Mail, Airbus and Sawday's Publishing and, in his post of Head of the Bristol Choral Centre, read more...
Music
Valiant for truth, Ralph Vaughan Williams
Dulce Jesus mio, Anon
Versa est in luctum, Alonso Lobo
Ave verum, William Byrd
Thou knowest Lord, Henry Purcell
Anima mea, Martin Rivaflecha
The Call, Gail Randall
O Crux , Fernando Sor
Canite tuba, Francisco Guerrero
O quam suavis, Sebastian de Vivanco
If ye love me, Thomas Tallis
Regina Caeli laetare, Cristóbal de Morales
Apostole Christi Jacobe, Cristóbal de Morales
Ave Maria, Tomas Luis da Victoria)
Where to stay?
We will be based in a popular four-star hotel right at the highest point of the Old Town and near to our rehearsal room and concert venue. Toledo is hilly and the ancient streets are narrow so this holiday is probably not suitable for the hard of walking.
Getting there
This bit is up to you and is not included in the price of the weekend. There are affordable budget flights available from Easyjet and Ryanair to Madrid - only an hour away by train. There are also scheduled services from Heathrow with the main national carriers. You need to arrive in time for dinner on Sunday night and can leave any time on the following Sunday.
What does it cost?
The course fee is payable in two stages - £195 on registration and a balance of £795 which will be invoiced approximately eight weeks before arrival in Spain. This covers tuition, four evening meals and seven nights three-star B&B accomodation in a comfortable, centrally located, hotel. This price is based on two sharing so there is a single occupancy supplement is £30 a night. Non-singing partners, sharing a singer's room, pay a reduced fee of £595 but this is subject to availability. Music - which can be kept - will cost £25.00. and will be sent to course participants six-eight weeks in advance.

Travel and health insurance
All singers are required to take out appropriate travel insurance and supply their policy details to us before the course begins. You should also bring an EHIC or GHIC card with you.
Any questions?
If you have any questions at all please contact Nick Couchman ([email protected]) or Emma Ford ([email protected]) or ring Nick during office hours on 01462 893972.