Advent in Dresden

- 2 December to 6 December 2023

Directed by Jeremy Jackman
Advent in Dresden - with Brass!
Introduction
We have always enjoyed our Summer visits to Dresden but this year we are going later in the year when the Christmas markets will be in full swing and the air will be filled with the aromas of hot Gluhwein and sizzling Bratwursts. And as we celebrate the approach of Christmas by lifting our voices in song, we shall be accompanied by a professional Brass Quartet. When we are not rehearsing there will be time off to visit the Zwinger Palace and its museums, take a boat trip down the Elbe, and visit the restored Frauenkirche.

Who is the course for?
This is a week for experienced singers - it's not suitable for complete beginners. If you enjoy good company and the odd glass of wine - or beer - so much the better. The rehearsal room is about twelve minutes walk from our hotel so the physical demands of the holiday should not tax anyone of average fitness and mobility. If you have any doubts about your ability to manage, please feel free to call us in confidence to discuss your concerns.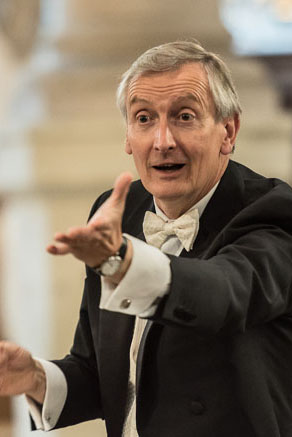 Musical Director
Jeremy Jackman's musical education began as a chorister at St Paul's Cathedral, and continued at the Royal College of Music and Hull University. He sang throughout Eastern and Western Europe as a soloist, and with ensembles such as the BBC Singers, the Kings' Singers, the Alfred Deller Choir, the Tallis Scholars and The Sixteen. Read more...
Music
MUSIC LIST

Drop down ye heavens from above – Jackman
Zion Hears the Watchmen's Voices – J S Bach
O come, O come Emmanuel – traditional
Adam lay ybounden – Ord
The Angel Gabriel - traditional - arr Jackman
Es ist ein Ros entsprungen – Praetorius
Lo He comes with clouds descending – Wesley
O Thou the central orb – Wood
Glory to God (Messiah) – Handel
Adeste fideles (O come all ye faithful) arr. Willcocks
Bethlehem Down – Warlock
Nuit Divine (a Christmas Fantasia) – Jackman



We have chosen two comfortable hotels within walking distance of our rehearsal room. Both hotels have good sized air-conditioned rooms.
This bit is up to you and is not included in the price. The nearest airports are Dresden and Leipzig. Berlin - another option - has good train connections to Dresden. There are also express coaches. But why not come a day early and enjoy some leisure time in Leipzig?
What does it cost?
The course fee including the concert, four nights B&B accommodation at the Park Inn, and two Group Dinners will be £995 per person sharing. (Single occupancy supplement £30 per night). Music - which can be kept - will cost £30 and is sent out six-eight weeks in advance. Non-singers sharing a singer's room pay a reduced fee of £795.
Travel and health insurance
All singers are required to take out appropriate travel insurance and supply their policy details to us before the course begins. You should also bring an EHIC or GHIC card with you.
Any questions?
If you have any questions at all please contact Nick Couchman ([email protected]) or Emma Ford ([email protected]) . You can also ring us on 01462 372702 but please bear in mind that we are often out of the office.