Dresden
This will be our second visit to the delightful city of Dresden. Our visit in 2016 was a huge success and we were determined to come back for more. Dresden is now one of the best -preserved Baroque cities in Europe - or so it seems. Actually almost all of the 'Old Town' has been lovingly and painstakingly recreated after it was bombed during the Second World War. We have arranged a brief guided tour on the first day to help people appreciate everything that Dresden has to offer.

Everything about this week is special; we have a hotel on the banks of the River Elbe, that overlooks the Cathedral and the Imperial Palace; we have a visit lined up to Meissen where they make the world's finest porcelain ( visitors can see the actual craftsmen at work and taking pictures is actually welcomed); we also have an opportunity to sing briefly in the recently restored Frauenkirche; and we have a great piece of music to sing at our main concert in the recently renovated Dreikonigskirche.

There is plenty to do when we are not singing; there are paddle-steamers, castles, great museums housing the treasures of Augustus the Strong, an Opera House, German beer, wine and sausages - and great cakes. And most tourists haven't discovered it - yet!
Who is the course for?
This course is for experienced choral singers of all ages. Participants should have reasonable sight-reading ability and be prepared to study the music beforehand, although nobody is expected to be note-perfect on Day One. You must have sung the Brahms Requiem before though - ideally within the last few years. There are a lot of notes and we will be singing in German. We shall be performing the version arrange by Brahms for two pianists - as recorded by Harry Christophers and The Sixteen. We will all be using the Peter's Edition Vocal Score and singers should bring their own copy.

It helps if you enjoy good food, good company and the occasional glass of wine. We all eat together most evenings in a selection of different restaurants where everyone will soon get to know each other. Non-singing partners are welcome to join us subject to availability and benefit from a significant discount.
Our singing holidays have proved equally popular with people travelling on their own and singing couples. The course proper runs from Sunday evening, when we meet for an introductory dinner, to the following Saturday evening where we perform our concert.
Colin Durrant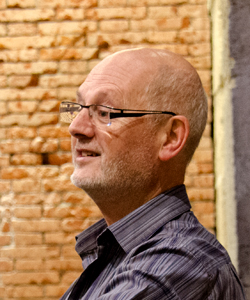 Colin Durrant has been conducting choirs since the age of 15. He currently is conductor of the University of London Chamber Choir as well as Imperial College Choir. Colin has been leading the postgraduate programme in Music Education at the Institute of Education, University of London and previously been Visiting Professor at the University of Maryland and Choral Director of the New England Conservatoire in Boston. Colin has a wide range of choral conducting and teaching experience and is principal conducting tutor and on the standards and training unit for the Association of British Choral Directors.

What does it cost?
The cost of the weekend including the concert, seven nights 4-star B&B accommodation, the private guided tour and four evening meals will be £945 per person sharing. (Single occupancy supplement £25 per night) Non-singing partners sharing singers' rooms are welcome subject to availability - and pay a reduced fee of £645. A deposit of £195 is required when booking.
Getting there
This bit is up to you and is not included in the price. There are no direct flights from London to Dresden's small airport - although you can travel via another airport with Lufthansa. Most people choose to fly to Berlin - or Prague - both of which are only a couple of hours away by train.
Travel Insurance
Insurance is not included so we recommend that all singers take out their own holiday and cancellation cover. You should also bring an EHIC form with you.
Any questions?
If you have any questions at all please contact Nick Couchman (nick@runbysingers.org) or Emma Ford (emma@runbysingers.org) or you can try ringing us during normal office hours on 01462 893972. The office is not always staffed but, if you leave a message, somebody will get back to you within a day or two.