Sorry -
The Glory of Venice

has already taken place. To receive details of next year's holidays - and priority consideration for booking - please join our Mailing List
The Glory of Venice - Singing Holiday
Introduction
This popular annual event will be directed by Jeremy Jackman and accompanied by world-renowned trumpeter, Crispian Steele-Perkins. If you have never been before, this is your chance to sing glorious Italian choral music in a splendid church overlooking the canals of Venice. If you have been before, you already know just how good it is.
Spring is an ideal time to visit Venice - the weather is a great deal milder than in Summer and the crowds are a great deal thinner. For three out of the last four years, we have had glorious sunny weather - do have a look at our pictures on flickr here
The concert will take place in San Trovaso Church which has a good acoustic and is a popular choice for concerts; it is located near the Accademia museum on Venice's Dorsoduro. The course will begin with supper at 7.30 pm on Wednesday evening with rehearsals starting in earnest on the Thursday morning. Most people will travel home on Sunday unless they have asked us to book an extra night for them.
Who is the course for?
This is not a Bring & Sing event. Participants should be experienced choral singers with some sight-reading ability and must be prepared to learn their part beforehand.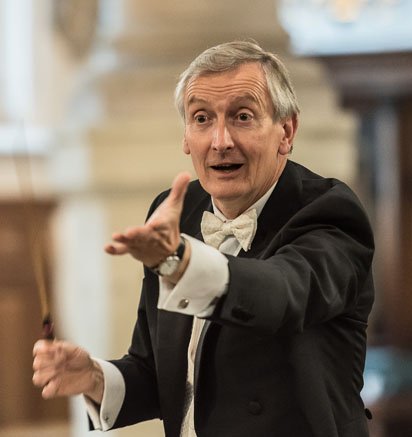 Musical Director
Jeremy Jackman's musical education began as a chorister at St Paul's Cathedral, and continued at the Royal College of Music and Hull University. He sang throughout Eastern and Western Europe as a soloist, and with ensembles such as the BBC Singers, the Kings' Singers, the Alfred Deller Choir, the Tallis Scholars and The Sixteen. Read more...
Music
Programme to include:
'Pergolesi' Magnificat – Durante
Agimus tibi gratias – da Rore
Ego rogabo Patrem – Andrea Gabrieli
Ego rogabo Patrem – Giovanni Gabrieli
Christe, adoramus Te – Monteverdi
Domine ad adjuvandum – Galuppi
Where to stay?
Accommodation is extremely expensive in Venice and many of the more affordable establishments are hard to find, have only a few rooms and sell out very early. To help reduce costs a bit for our singers, we will be staying once again at a simple but comfortable Conference Centre which is within the historic centre of Venice very near to our concert venue and is also within walking distance of St Mark's Square. It's not a hotel as such but all rooms have private ensuite facilities and there is even a night porter.
Getting there
This bit is up to you and is not included in the price. There are affordable budget flights available from Easyjet and Ryanair to Venice Marco Polo and Treviso airports. There are also scheduled services from Heathrow with the main national carriers. You need to arrive in time for dinner on Wednesday night and can leave any time on Sunday. Please let us know in good time if you want to stay for any extra nights.
What does it cost?
The Glory of Venice fee including the concert, four nights B&B accommodation and two Group Meals will be £995 per person sharing. (Single occupancy supplement £35 per night). A deposit of £195 is required when booking with final payment due no later than eight weeks before our arrival in Venice. Non-singing partners sharing singers' rooms are welcome - subject to availability - and pay a reduced fee of £845. Music - which can be kept - will cost £30 and is sent out about eight weeks in advance.
Travel and health insurance
All singers are required to take out appropriate travel insurance and supply their policy details to us before the course begins. You should also bring a GHIC card or an EHIC card - if yours is still valid.
Any questions?
If you have any questions at all please contact Nick Couchman ([email protected]) or Emma Ford ([email protected]) or ring Nick during office hours on 01462 372702.