MOZART REQUIEM ONLINE

- 10 November to 5 December 2020

Directed by Matthew Finch
Mozart Requiem, Online
Join hundreds of singers from the UK, US, Australia and across the world as we come together online to rehearse and perform this incredible work. There's no need to sing in silence; we will have a professional backing choir and the charismatic Matt Finch to coach every section and every movement separately - and then together as a full choir.

What time are the rehearsals? Rehearsals will be held at different times throughout the course to suit the work schedules of singers in different countries. However, they will all be streamed live and instantly recorded on our private YouTube channel which means that you can join in at a time that suits YOU .

You can pause the rehearsal, rewind, and repeat as many times as you want to during the course. Then - if you want to - record all or part of the Requiem for inclusion on our new CD with full Baroque Orchestra and soloists. Proceeds from the CD will raise money for Requiem to Cancer - a UK cancer charity set up by singers.

What does it cost? The whole experience costs £29.95 (about $40). If you are outside the Uk, check out using Paypal to take care of the conversion at no extra cost to you. Your subscription covers all rehearsals, a full downloadable vocal score, an introductory lecture from former Kings Singer Jeremy Jackman and recipes for Viennese punch and cookies so we can all celebrate together after the concert. Plus you get a 50% discount on rehearsal aids from our partner ChoraLine.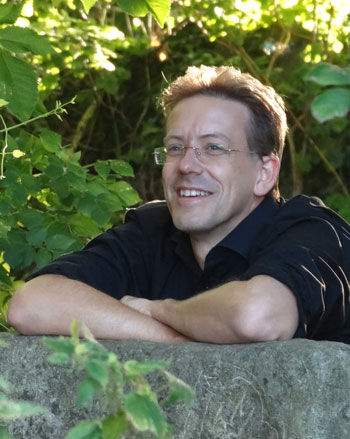 Musical Director
Matt Finch - a prolific composer and arranger - has been singing and performing music since he was a small child.

Musical Director for Bath Light Operatic Group for over 25 years, Matt completed his music degree at Bath Spa University where he conducted the choir and orchestra. Since then he has conducted several choirs including many virtual and online choirs. read more..

Any questions?
If you have any questions at all please contact Nick Couchman (nick@runbysingers.org) or Emma Ford (emma@runbysingers.org)
Watching closely..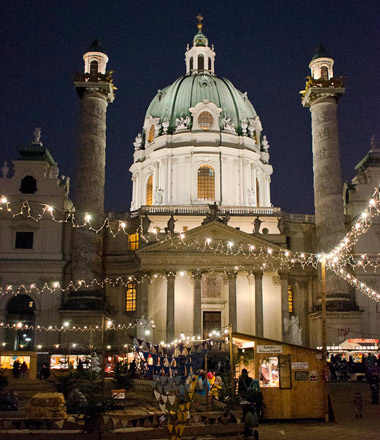 Karlskirche, Vienna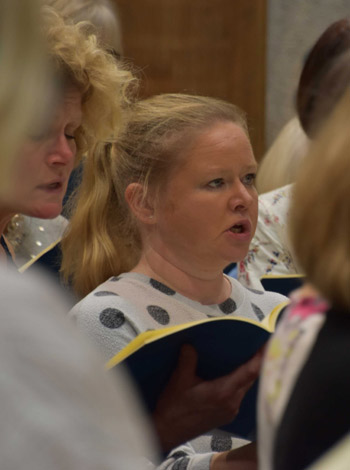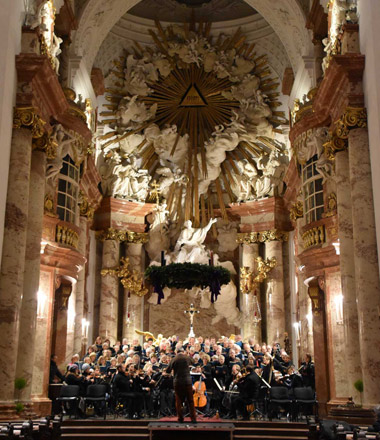 Karlskirche inside