Early Music Week, Regensburg

- 16 June to 23 June 2019

Directed by David Skinner
Early Music Week, Regensburg
Introduction
We will make our first visit to this historic German city - which has a long association with Early Music - for another week of a capella Renaissance riches with David Skinner. Numbers will be capped at just 40 voices, excluding Nick and those who help him, so early application is strongly advised; however places will not be allocated purely on a first-come, first-served basis. David is keen to have the right balance of voices for this special study week and we ask you to be patient if you don't receive an answer as quickly as you would like. Everybody should have a response within two - three weeks of applying. Applications from music students and graduates are particularly welcome and a small number of bursaries will be available.
Regensburg is an exceptionally well preserved medieval city with an ancient university that also has a proud tradition of Early Music scholarship. the city hosts one of Europes most important Early Music festivals.

The course will begin with supper at 7.30 pm on Sunday evening with rehearsals starting in earnest the next day.
Who is the course for?
This is definitely a week for confident and experienced singers with good blending voices and good reading skills.. David will be working on some polychoral repertoire exploring so sections could be as small as two or three voices. Music will be sent out several weeks in advance to allow for private study before the course starts.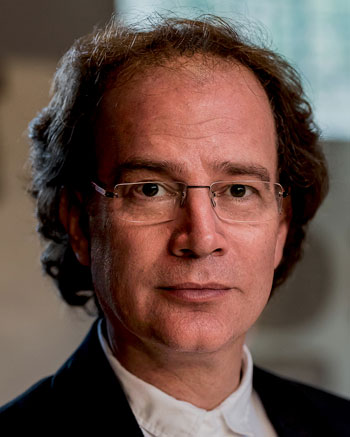 Musical Director
David Skinner is Fellow, Praelector, and Osborn Director of Music at Sidney Sussex College in the University of Cambridge where he teaches historical and practical topics from the medieval and renaissance periods, as well as directing the chapel choir. Read more...
Music
LUDWIG SENFL & HIERONYMUS PRAETORIUS
A Century of German Renaissance Masterworks

Programme to include:
Ave Maria a4 (Josquin Desprez) — SATB
Ave Maria super Josquin Desprez a6 (Senfl) — SSAT(=shawm or similar)TB
Quis dabit oculis a4 (Senfl) — SATB
Nisi Dominus a5 (Senfl) — SATTB
Ecce quam bonum a8 (Praetorius) — SATB/SATB
Laudate Dominum a8 (Praetorius) — SATB/SATB
Nunc dimiittis a8 (Praetorius) — SATB/SATB
Jubilate Deo a16 (Praetorius) — SSAT/SATB/TBarBarB
Where to stay?
Regensburg is short on large hotels - especially in the centre - so we have chosen two to accommodate the group. Neither has a proper bar but Regensburg is very well served with bars and cafes. The nearest to our rehearsal room is the 4 star Hotel Jakob in Jakobstrasse. We have also secured an allocation of rooms in the 3 star Hotel am Peterstor. Both are in the centre of the Old Town and both are regularly used by the university for conference delegates.


Getting there
This bit is up to you and is not included in the price of the weekend. The nearest airports are Munich and Nuremberg. Both have very good train connections although the bus is cheaper - and faster at certain times of day because of its directness.
What does it cost?
The course fee including the concert, seven nights B&B accommodation and four Group Meals will be £975 per person sharing in the Hotel Jakob. (Single occupancy supplement £40 per night). The 3 star Peterstor option will be £875 with a rather more affordable £20 per night single occupancy supplement. Music - which can be kept - will cost £25 and is sent out six-eight weeks in advance.
Travel and health insurance
Insurance is not included so we strongly recommend that all singers take out their own cover. You should also bring an EHIC card with you.
Any questions?
If you have any questions at all please contact Nick Couchman (nick@runbysingers.org) or Emma Ford (emma@runbysingers.org) or ring Nick during office hours on 01462 893972.
Regensburg Cathedral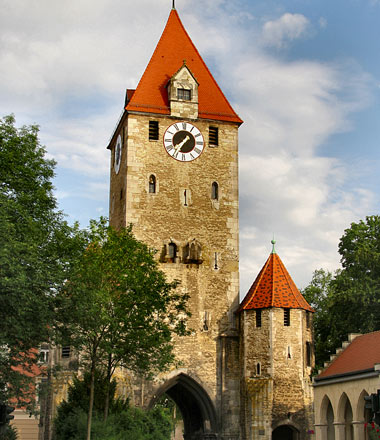 Old East Door, Regensburg