A week in Puglia, Southern Italy

- 6 October to 13 October 2019

Directed by David Ogden
A Week in Coastal Puglia
Introduction
Puglia with its white-washed buildings, great wine, superb fish, iconic dome-roofed 'trulli' and rugged coastline is becoming increasingly popular - and with good reason. Our Puglia week, however, will be in a charming unspoilt fishing town on the coast of Puglia far away from the tourists. One of our inclusive group meals will be a fishy lunch at picturesque Polignano a Mare and, if there is sufficient interest, there will be optional outings to visit Alberobello (Unesco trulli destination) Ostuni and Lecce. Please don't apply if you don't like fish, Italy or being by the sea.

There is only one hotel of any size in central Monopoli and we didn't find them particularly welcoming. Both times we visited Monopoli, we stayed at the Albergo Diffuso which owns and operates self-catering apartments of various sizes all over Monopoli. They have agreed to reserve capacity for the whole group and we doubt anyone will be disappointed.

The course runs from Sunday evening, when we meet for a welcome drink and dinner, to the following Saturday where we perform our new repertoire at a formal evening concert. We will sing for approximately five hours each day with breaks for coffee and a long afternoon break. Thursday will be a half-day (which is when we usually arrange our outings) and people may choose to explore a little further afield.

Who is the course for?
This course is for experienced choral singers of all ages. Participants should have good sight-reading ability and be prepared to study the music beforehand, although nobody is expected to be note-perfect on Day One.

It also helps if you enjoy good food, good company and the occasional glass of wine. We all eat together most evenings in a selection of different restaurants where everyone will soon get to know each other. Our singing holidays have proved equally popular with people travelling on their own and singing couples. Please note: Monopoli is hilly and there will be a certain amount of walking, standing around and climbing steps involved in this week. We don't expect that this will tax anyone of average fitness but if your fitness or stamina is below average, you should contact us for a confidential chat before booking. It may be that one of our other holidays weould be less taxing.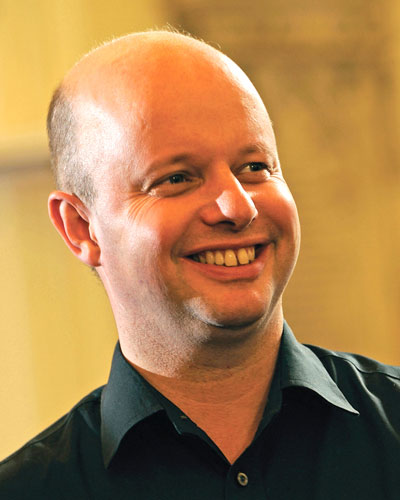 Musical Director
David Ogden is a professional conductor and composer. He conducts Exultate Singers, City of Bristol Choir, choirs at the Royal Mail, Airbus and Sawday's Publishing and, in his post of Head of the Bristol Choral Centre, he conducts the Bristol Youth Choirs. He also conducts choirs at several schools around Bristol including Merchant's Academy in Withywood and is Director of Music at Holy Trinity Church, Westbury-on-Trym. David studied conducting with George Hurst, Norman Del Mar, Michael Rose and Adrian Leaper, and choral conducting with Simon Johnson, Laszlo Heltay and Peter Erdei. read more...
Music
Beatus Vir (Monteverdi)
Adoramus te (Merulo)
Ave maris stella (Grieg)
Sure on this shining night (Barber)
Sicut cervus (Palestrina)
Exultate Deo (Scarlatti)
Crossing the bar(Parry)

Plus Madrigals by Monteverdi, Marenzio and Andrea Gabrieli
Saltarellos by Vecchi and Gastoldi
Where to stay?
As mentioned before, most of the accommodation in Monopoli is in very pleasant self-catering apartments and we have an aparthotel partner - the Albergo Diffuso - who will be coordinating accommodation for the whole group. Prices vary depending on the number of beds and bedrooms required but there are good opportunites to make savings - and have fun - by sharing an apartment with a couple of friends.

Breakfast can be provided each day by the Albergo Diffuso if pre-booked or you may prefer to stock up your kitchen with fresh bread, fruit, yoghurt or whatever takes your fancy. Prices are generaly very affordable compared with conventional hotels and all the apartments we have seen have been finished to a very high standard. Succcessful applicants will be sent details of our friendly English-speaking contact.

Getting there
This bit is up to you and is not included in the price of the weekend. There are affordable budget flights available to Bari and Brindisi - the nearest airports. There are also scheduled services from Heathrow with the main national carriers. Some may choose to travel via Rome and take advantage of cheap internal flights or the excellent rail service. You need to arrive in time for dinner on the Sunday night night and can leave any time the following Sunday.
What does it cost?
The Puglia week course fee is payable in two parts a deposit of £195 and a final balance of £395. This includes all tuition, four three-course group meals with wine, and the final concert but not transport or accommodation. See above. Music - which can be kept - will cost £25 and is sent out about eight weeks in advance. Non-singers are able to join us subject to availability but musy be notified in advance. Non-singers pay a reduced feee of £195 which covers their meals and inclusion in all group activities.
Travel and health insurance
Insurance is not included so we strongly recommend that all singers take out their own cover. You should also bring an EHIC card with you.
Any questions?
If you have any questions at all please contact Nick Couchman (nick@runbysingers.org) or Emma Ford (emma@runbysingers.org) or ring Nick during office hours on 01462 893972.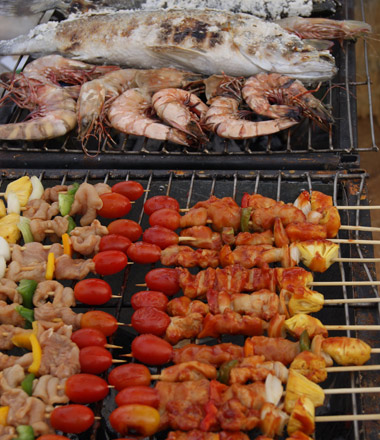 Lunch time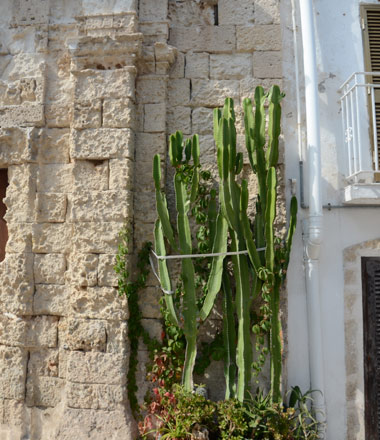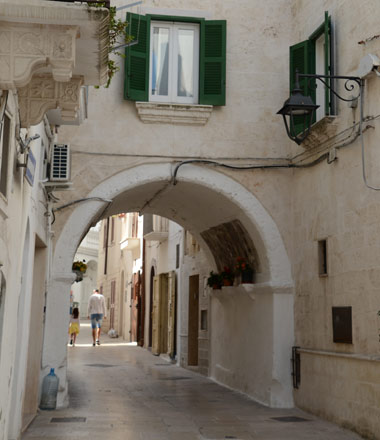 Monopoli street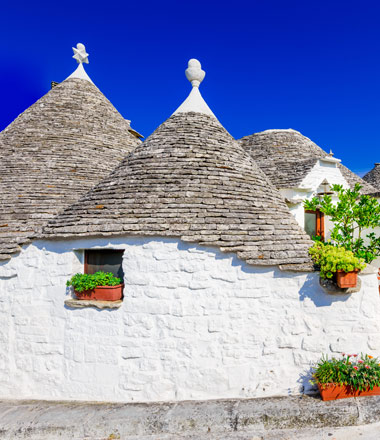 Traditional Trulli houses