Voyage to Odessa
Introduction
This Ukranian expedition to the city by the sea will be our 100th RBS event so naturally we chose something a bit special. Our 4-star hotel is a few yards away from the Potemkin Steps and overlooks the ocean. Our end of course concert will be in the Odessa Philharmonic Hall. Ukraine is probably the nearest we will get to Russia in the next couple of years and Odessa certainly has a distinctly Russian feel to it. The programme will be a mix of Russian, European and British music. Naturally we chose Nigel Perrin - who directed our first ever Runby event - to preside over this important centenary event.

"Have you ever heard of Mykola Lysenko, Dmytro Bortniansky or Kyrylo Stetsenko – neither had I; but as you can imagine, Ukraine has an incredibly rich heritage and culture of choral music, which here in the west, we know little about. I intend to introduce you to the choral music of the above composers, as fine examples of that gorgeous sonorous church music in what we might recognise as being in the Russian Orthodox idiom – listen to the numerous recordings of the Kiev Chamber Choir! Obviously, we also need to include some of our Russian favourites; a couple of movements from Rachmaninov's scintillating Vespers and the simpler, but equally beautiful Liturgy of St John by Tchaikovsky.

I recently came across the music of Alexander Levine, a Russian composer born in 1955. In 1992 he emigrated to the UK becoming an anglophile but still very Russian at heart. His Prayers for Mankind is an extended symphony for a cappella choir full of passion and intensity; I want to do the first movement – Morning Prayer (there's a fabulous recording by Tenebrae).
And to round off with the Anglo/Russian theme I'm including a short simple prayer by John Tavener: Eonia.

I'm sure you are familiar with Rheinberger's Abendlied – the third in a set of three sacred songs Op.69 – but do you know the other two? I have long wanted to perform the complete set
Put together, I'm hoping this selection will really resonate for us in Odessa on the Black Sea, known for its beaches and C19th architecture!"
Nigel Perrin
Who is the course for?
This is not a Bring & Sing event. Participants should be experienced choral singers with some sight-reading ability and must be prepared to learn their part beforehand.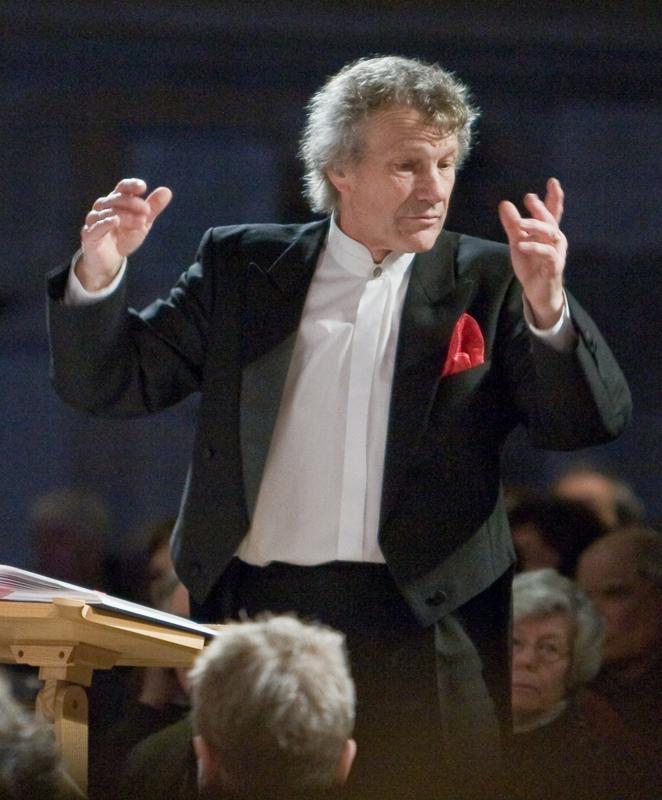 Musical Director
Nigel Perrin's musical life began as a boy chorister at Ely Cathedral, from where he won a choral scholarship to King's College, Cambridge, to study under Sir David Willcocks. After a short time spent singing in most of London's professional choirs, Nigel became well-known as the high voice of The King's Singers and for the next eleven years he travelled the world on concert tours, recorded some twenty-five albums and appeared in countless television shows with artists as diverse as Kiri Te Kanawa and Cliff Richard. Read more...
Music
Rachmaninov: All night Vigil (excerpts from Vespers)

Priidite, poklonimsia Tsarevi nashemu Bogu

Blazhen muzh; Svete tihiysvatiya slavi

Bogoroditse Devo

Tchaikovsky: Liturgy of St John (excerpts)

Izhe Kheruvimi;

Tebe poyem; Dostoino yest

Three short pieces by Ukrainian composers:

Lysenko - Bozhe velykyi yedynyi

Bortniansky - Izhe Herouvimy

Stetsenko - Blagoslovi dushe moia

Levine - Morning Prayer

Tavener - Eonia

Rheinberger - Drei geistliche Gesange
Where to stay?
Our chosen hotel in Odessa is the rather swanky Londonskaya Hotel near the Potemkin Steps and overlooking the sea. The hotel has a restaurant, a cosy bar and a swimming pool, a spa - and a nice large breakfast room complete with nice large breakfast! The staff have good English and we will rehearse in one of the hotel's elegant function rooms.
Getting there
This bit is up to you and is not included in the price. There are no direct flights from the UK so many people may choose to fly via Warsaw. LOT offers affordable flights with short stopovers. Getting from the airport to the hotel is a short taxi ride.
What does it cost?
The course fee is £1145 and will cover all tuition, seven nights accomodation at the Londonskaya with full breakfast, five 3-course evening meals with wine, and a guided tour of Odessa This price is based on two sharing so there will be a single occupancy supplement of £40 a night . Non-singers sharing a singer's room pay a reduced rate of £795 . Music for the course, which can be kept, will cost £25.

We will require a £195 deposit per person at time of booking with the balance payable no later than eight weeks before we leave.
Travel and health insurance
All singers are required to take out appropriate travel insurance and supply their policy details to us before the course begins. You should also bring a GHIC card or an EHIC card - if yours is still valid.
Any questions?
If you have any questions at all please contact Nick Couchman (nick@runbysingers.org) or Emma Ford (emma@runbysingers.org) . You can also ring us on 01462 893972 but please bear in mind that we are often out of the office.