Sorry -
A Week in Granada

has already taken place. To receive details of next year's holidays - and priority consideration for booking - please join our Mailing List
Alhambra Week in Granada

Introduction
A former capital of Moorish Spain, Granada still has more than a hint of Morocco about it with its whitewashed walls, steep narrow streets, and fragrant citrus trees.

We shall spend a week singing in the shade of the Alhambra working on a rich programme of choral music whilst enjoying the best of Andalusian food and wine, and relishing the opportunity to be back in southern Spain at the perfect time of year. Our last trip to Granada is still being talked about and we are sure that this second visit will be no less memorable.

The course runs from Sunday evening, when we meet for a welcome drink and dinner, to the following Saturday evening where we perform our new repertoire at a formal concert. We will sing for approximately five hours each day with breaks for coffee and a long afternoon break. Thursday will be a half-day when people may choose to explore a little further afield.
Who is the course for?
Participants should have good sight-reading ability and must be prepared to study the music beforehand. It also helps if you enjoy good food, good company and the occasional glass of wine. We all eat together most evenings in a selection of different restaurants where everyone will soon get to know each other.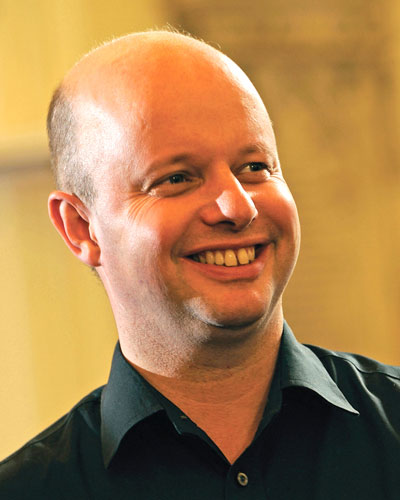 Musical Director
David Ogden is a professional conductor and composer. He conducts Exultate Singers, City of Bristol Choir, choirs at the Royal Mail, Airbus and Sawday's Publishing and, in his post of Head of the Bristol Choral Centre,he conducts the Bristol Youth Choirs. He also conducts choirs at several schools around Bristol including Merchant's Academy in Withywood and is Director of Music at Holy Trinity Church, Westbury-on-Trym. David studied conducting with George Hurst, Norman Del Mar, Michael Rose and Adrian Leaper, and choral conducting with Simon Johnson, Laszlo Heltay and Peter Erdei.Read more...
Music
Ascendens Christus in altum - Tomas Luis da Victoria
Hortus conclusus - Rodrigo de Ceballos
Jubilate - David Ogden
Deus tu convertens - Josef Rheinberger
O God the King of glory - Henry Purcell
O Rex gloriae - Charles Wood
All people clap your hands - Thomas Weelkes
Ave Regina coelorum - Alonso Lobo
Ego Flos campi - Alonso Lobo
Viri Galilaei - William Byrd
Two Canciones y villanescas espirituales - Francisco Guererro
The road home -
Stephen Paulus
Ave Maria - Joaquin Rodrigo
Where to stay?
We have chosen to return to the Sercotel Palacio - which served us well before. It has a bar and restaurant, pleasant staff and - most important - it is within easy walking distance of our rehearsal room!
Getting there
This bit is up to you and is not included in the course fee. The nearest international airport is Malaga and there are excellent coach and rail links.
What does it cost?
The course fee, which includes all tuition, the concert, seven nights'accommodation at the Sercotel - with breakfast - and four group dinners is £1095. This price is based on two sharing so there will be a single occupancy supplement of £35 per night. Music - which can be kept - will cost £30.00 and will be mailed to you six-eight weeks in advance. You will also need to organise your own travel and health insurance. Non singers sharing a singers room pay a reduced fee of £795
Travel and health insurance
All singers are required to take out appropriate travel insurance and supply their policy details to us before the course begins. You should also bring an EHIC or GHIC card with you.
Any questions?
If you have any questions at all please contact Nick Couchman ([email protected]) or Emma Ford ([email protected]) . You can also ring us on 01462 372702 but please bear in mind that we are often out of the office.