Sorry -
Ghent Early Music Week

has already taken place. To receive details of next year's holidays - and priority consideration for booking - please join our Mailing List
A week of Renaissance Music in Ghent
Introduction
Ghent is famous for its beer, chocolates - and it's mysterious allegorical altarpiece.

David Allinson writes "Our main work is a stunning Mass setting by one of the greatest composers of the Portuguese Golden Age, Duarte Lobo, who was mestre de capela at Lisbon Cathedral but whose works were published in Antwerp. The greatest artifact in Ghent, van Eyck's altarpiece The adoration of the mystic lamb, inspires much of our programme, with Mass music and communion motets providing the commemoration of the last supper and; settings of the Sanctus (Josquin, Duarte Lobo) evoking the singing angels . Indeed, the figure of John the Baptist is remembered in the title of our Mass – 'the voice, crying in the wilderness'. A motet by Wert recalls God as the Trinity while the flower-garlanded Virgin Mary is praised in motets by Clemens, Brumel and Phillips. St Bavo's Cathedral was the meeting place for the royal Order of the Golden Fleece, and those 'knights of Christ', the Crusaders, are remembered in the chanson of war, L'homme armée. All together, this should be a rich and immersive week which brings our historical surroundings to life through its music."

The course runs from Sunday evening, when we meet for dinner and a few introductions, to the following Saturday evening where we perform our new repertoire at a formal concert in the Cathedral. We will sing for approximately five hours each day with breaks for coffee and a long afternoon break. Thursday will be a half-day when people may choose to explore a little further afield.

Who is the course for?
Think of this as a Level 4+ week. Participants should be experienced and confident choral singers with good sight-reading ability and must be prepared to learn their part beforehand. There will be splits in upper and lower voices. In terms of physical exertion, singers should expect a reasonable amount of walking - much of it on cobbles - and standing during rehearsal. Ghent, however, is fairly flat and we will be rehearsing in one of the two group hotels in the cathedral square. As always, ring us to discuss any concerns or special requirements you may have before booking.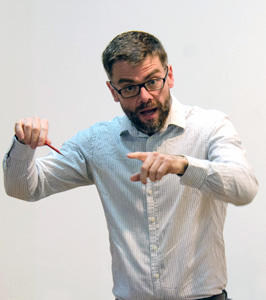 Musical Director
Dr David Allinson is a highly respected choral trainer specialising in the history and performance of Renaissance sacred music. He read Music at St Peter's College, Oxford (where he was a choral scholar) and took his Master's with Distinction at University College, Durham before completing a doctorate on the devotional context and meaning of early Tudor sacred music at Exeter University. Read more...
Music
Music to include


Audivi vocem de caelo a6 - Duarte Lobo,

Missa Vox Clamantis a6 - Duarte Lobo,

Sanctus from Missa D'ung aultre amer - Josquin des Prez,

D'ung aultre amer a3 - Johannes Okeghem,

L'homme armée unis - ?Antoine Busnoys,

Il sera pour vous/L'homme armé a4 - ?Pieter Bordon

Sicut lilium a4 - Antoine Brumel,

Ego flos campi a7 - Jacob Clemens,

O magnum mysterium/Ave Maria a4 - Adrian Willaert,

Beata es Virgo Maria a7 - Philippe Verdelot,

Benedicta sit sancta Trinitas a5 - Giaches de Wert,

Factum est silentium a6 - Richard Dering

Ave Regina caelorum a5 - Peter Philips,

Salve regina a8 - Tomas Luis de Victoria
Where to stay?
We have chosen two hotels for this course - both are within 100 metres of the cathedral which houses the Sacred Lamb altarpiece. The Ibis Kathedraal is an RBS regular - rooms are small but modern, staff are super friendly - and there is a good-sized bar. Couples and room sharers may find it rather short of wardrobe space for a week-long stay. The nearby Novotel is a step up cost-wise but is a much swankier place with more facilities and larger rooms than the Ibis. It is also where we will be rehearsing as they have a large function room with an unusually decent acoustic. We recommend that couples and room-sharers choose this hotel. It is well worth the small extra cost for the extra comfort.
Getting there
This bit is up to you and is not included in the price. Ghent is easily accessible from Brussels and Antwerp but many may prefer the convenience and relative comfort of Eurostar. A Eurostar ticket to Brussels can be extended to any station in Belgium with minimal extra cost and Belgian train services are fast and frequent.
What does it cost?
The course fee is payable in two stages - £195 on registration and a balance of £895 which will be invoiced approximately eight weeks before arrival in Flanders. This covers tuition, four evening meals and seven nights three-star B&B accomodation in the Ibis. This price is based on two sharing so there is a single occupancy supplement of £30 a night. Non-singing partners, sharing a singer's room, pay a reduced fee of £795 but this is subject to availability. Music - which can be kept - will cost £30.00 and will be sent to you six-eight weeks in advance. The Novotel option will require a balance of £995 following the deposit and has a single occupancy supplement of £40.00. Non-singing partners, sharing a singer's room at the Novotel, pay a reduced fee of £845.

The course starts with dinner on Sunday evening and ends officially after our concert on Saturday . Most people will choose to go home the next day but if you wish to stay an extra day or, indeed, come a day early let us know in good time and we should be able to arrange it for you.
Travel and health insurance
All participants are required to take out appropriate holiday insurance and advise us of the policy details before the course starts. You should also bring an EHIC or GHIC card with you.
Any questions?
If you have any questions at all please contact Nick Couchman ([email protected]) or Emma Ford ([email protected]) or ring us during office hours on 01462 372702.