Portuguese Polyphony

has ended for this year. Join our mailing list to be notified of next years holidays!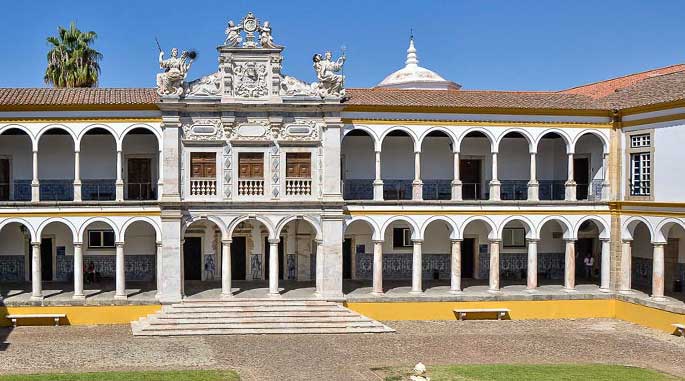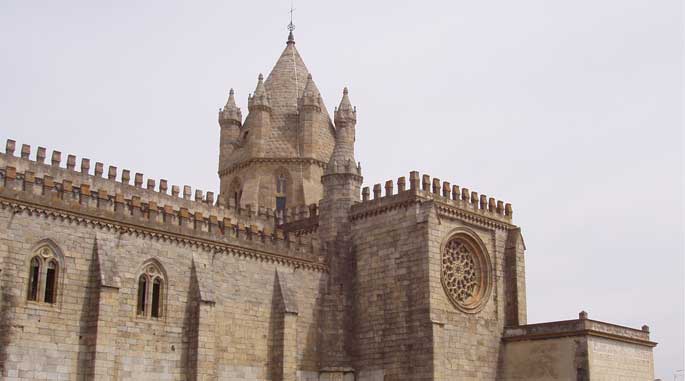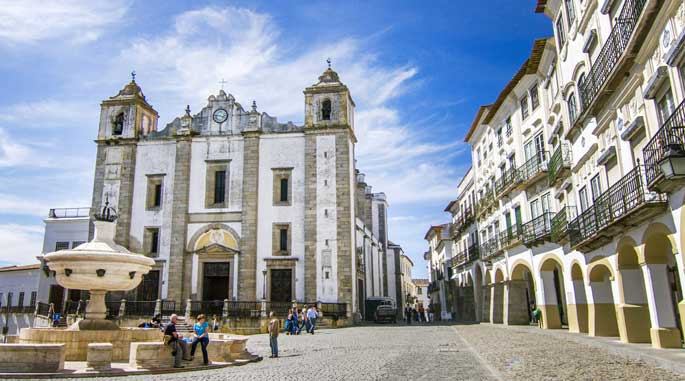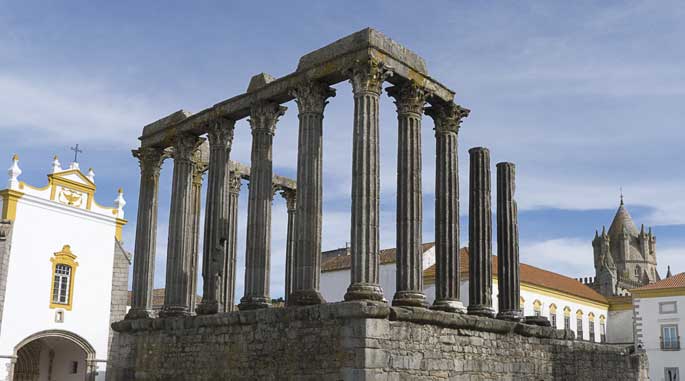 "The city of Évora and, in particular, its stunning cathedral, is the epicentre of the 'Golden Age' of Portuguese polyphony. The three greatest composers of the time, Manuel Cardoso, Duarte Lobo and Filipe de Magalhães, all sang and studied at the cloister school under the same teacher, Manuel Mendes (c.1547-1605). They went on to write mass settings of astonishing suavity, and motets of searing emotional intensity, as they spiced the inherited idiom of Palestrina with the chromaticism of the new baroque. "

So writes David Allinson who returns to us to direct this very special week of Portuguese Polyphony. This will be our first visit to Portugal and it won't be our last. Évora is a small walled city - similar to Avila in many ways. It offers a park, good walks, the usual selection of cafes and bars - and an extraordinary range of souvenirs crafted from cork. You can even buy a cork bikini!

We have chosen two hotels for this week - the 3-star Dom Fernando (rated Very Good on booking.com) which is about 750 yards from the centre of town and the 4-star Hotel Muralhas option which is posher, more expensive, and a little nearer. Both are within walking distance of our rehearsal room, both have swimming pools, and both involve a bit of an uphill walk into town.

The concert itself will take place in Évora Cathedral which will be a great treat. Few choirs get the chance to perform there.
Who is the course for?
This course is for experienced choral singers of all ages. Participants should have reasonable sight-reading ability and be prepared to study the music beforehand. All music is sent to participants out six-eight weeks in advance. It also helps if you enjoy good food, good company and the occasional glass of wine. We all eat together most evenings in a selection of different restaurants where everyone will soon get to know each other. Our singing holidays have proved equally popular with people travelling on their own and singing couples. The course runs from Sunday evening, when we meet for a welcome drink and dinner, to the following Saturday evening where we perform our new repertoire at a concert in the cathedral.

We will sing for approximately five hours each day with breaks for coffee and a long afternoon break. Thursday will be a half-day when people may choose to explore a little further afield. Click on New to Run by Singers in the Top Menu if you haven't sung with us before.
Music
Manuel Cardoso
Requiem a6 SSAATB (selected movements)
Missa Miserere mihi Domine, Kyrie and Agnus Dei a6 SSATTB
Sitivit anima mea a6 SSATTB
Non mortui a6 SATTB
Accepit ergo Jesus panes a5 SSATB
Mulier quae erat a5 SAATB

Duarte Lobo
Audivi vocem a6 SSATTB
Pater peccavi a5 SSATB

Filipe de Magalhães
Commissa mea a6 SSAATB

Manuel Mendes
Asperges me a8 SSAATTBB

"Speaking personally, this programme contains several pieces I could never be without, that move and excite me to my core. It will be an immense privilege to explore them with you, and to perform them, in medieval Évora."
David Allinson, Canterbury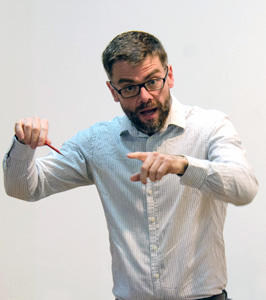 Dr David Allinson is a highly respected choral trainer specialising in the history and performance of Renaissance sacred music. He read Music at St Peter's College, Oxford (where he was a choral scholar) and took his Master's with Distinction at University College, Durham before completing a doctorate on the devotional context and meaning of early Tudor sacred music at Exeter University.

Now Director of Music at the University of Christ Church Canterbury, David also sings professionally, conducts, writes and teaches singing. He directs the Renaissance Singers and he also leads his own early music ensemble, Cantores.

In recent years he has guest-directed concerts with excellent early music ensembles, including The Cambridge Taverner Choir, a professional-standard early music group led by Dr Owen Rees; Contrafactum, Helen Price's accomplished ensemble; and Quorum in Milton Keynes.

What does it cost?

The cost of the holiday including the concert, seven nights accommodation with breakfast in the Dom Fernando will be £745 per person sharing. (single occupancy supplement £20 per night) The four-star option will be £895 per person sharing (single occupancy supplement £30 per night) Non-singing partners are welcome - subject to availability - and pay a reduced fee of £445 and £595 respectively. The course also includes four three-course evening meeals with wine. Music - which can be kept - will cost £25.00. We require a deposit of £195 per person with the balance payable not later than eight weeks before we arrive in Portugal. Invoices and joining information will be sent out with the music.
Getting there
This bit is up to you and is not included in the price. Évora is approximately an hour and a half from Lisbon with very good bus and train connections. But why not come a day early, spend the night in Lisbon, have dinner, do some sight-seeing and travel onwards by private coach to Evora the next day? This Lisbon package will cost £135 per person sharing including one night's accommodation, a three-course dinner, and onward travel to Evora. The single room supplement will be £35
Travel and health insurance
Insurance is not included so we strongly recommend that all singers take out their own cover. You should also bring an EHIC card with you.
Any questions?
If you have any questions at all please contact Nick Couchman (nick@runbysingers.org) or Emma Ford (emma@runbysingers.org) or ring Nick during office hours on 01462 893972. The office is not always staffed but if we are not there, leave a message and we will call you back promptly.
2018 Singing Holidays