Sorry -
Beautiful Bayreuth

has already taken place. To receive details of next year's holidays - and priority consideration for booking - please join our Mailing List
Beautiful Bayreuth
Introduction
There is so much more to Bayreuth than just Wagner – as the people showing me around in 2019 kept insisting. I agree - it really deserves to be better known.

The food is good, the wine and beer is excellent(Come on, it's Bavaria!); in addition to the famous Wagner Festspielhaus (only used for Wagner) there is also a delightful Baroque Opera house, and several concert halls - so there is always a lot of music happening - not forgetting the recitals in the main City Church (Stadtkirche) where we will perform our concert. There will be a guided city tour on Day One - and we also plan to take a trip to the nearby Eremitage to enjoy the palace and it's gardens.
Who is the course for?
This is a week for experienced singers - it's not suitable for complete beginners. If you enjoy good company and the odd glass of wine - or beer - so much the better. The course runs from Sunday evening, when we all meet for a welcome drink and dinner in the hotel, to the following Saturday evening where we perform our new repertoire at a concert in the Stadtkirche. We will sing for approximately five hours each day with breaks for morning coffee and a long afternoon break. Wednesday will be a half day.

Optional stopover in Munich

If there is sufficient interest, we will arrange an option stopover in Munch on the Saturday night - with one night's accommodation, dinner, a morning of sight-seeing the next day and a private coach to our hotel in Bayreuth. The price will be £195 per person based on two sharing.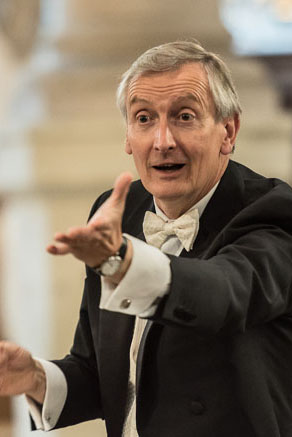 Musical Director
Jeremy Jackman's musical education began as a chorister at St Paul's Cathedral, and continued at the Royal College of Music and Hull University. He sang throughout Eastern and Western Europe as a soloist, and with ensembles such as the BBC Singers, the Kings' Singers, the Alfred Deller Choir, the Tallis Scholars and The Sixteen. Read more...
Music
MUSIC LIST

King of glory, King of peace - Herbert/Jones, arr. Jackman
Te Deum in B flat op 10 - Stanford
Verleih uns Frieden - Mendelssohn
Zadok the Priest - Handel
Veleih uns Frieden - Schutz
Pastime with Good Company - attrib. Henry VIII
When David Heard - Tomkins
Te Deum in C - Haydn



We have chosen the Hotel Rheingold for our stay - a comfortable 4 star hotel on the edge of town and just a short walk from our rehearsal room. This hotel has a bar, a large restaurant and good sized air-conditioned rooms.
This bit is up to you and is not included in the price. The nearest airport is Nuremberg. Munich - another option - has good train connections to Bayreuth. There are also express coaches. But why not come a day early and enjoy some leisure time in Munich? See above.
What does it cost?
The course fee including the concert, the tour, the visit to the Eremitage, seven nights B&B accommodation at the Rheingold, and four Group Meals will be £995 per person sharing. (Single occupancy supplement £30 per night). Music - which can be kept - will cost £25 and is sent out six-eight weeks in advance. Non-singers sharing a singer's room pay a reduced fee of £750.
Travel and health insurance
All singers are required to take out appropriate travel insurance and supply their policy details to us before the course begins. You should also bring an EHIC or GHIC card with you.
Any questions?
If you have any questions at all please contact Nick Couchman ([email protected]) or Emma Ford ([email protected]) . You can also ring us on 01462 372702 but please bear in mind that we are often out of the office.