Sorry -
A Week in Avila

has already taken place. To receive details of next year's holidays - and priority consideration for booking - please join our Mailing List
May in Ávila - with a Garland for Mary
Introduction
As the birthplace of Tomas Luis de Victoria, Avila will always be a very special destination for RunbySingers. This will be our third opportunity to celebrate the music of this exciting and influential Spanish composer along with other choral treats by his contemporaries. You can find some of the pictures from Avila 2016 here.
The course will begin with supper at 7.30 pm on Sunday at the hotel Palacio de los Velada with rehearsals starting the next day.
Who is the course for?
This is definitely a week for confident and experienced singers with good blending voices and some sight-reading skills. David has prepared a delicious programme of polyphonic treats - some of which are a little challenging - so music will be sent out well in advance to allow for private study before the course starts.

"I am thrilled to be returning to atmospheric Ávila for Run by Singers - to the city where Victoria learned the craft of composition as a choir boy, and where so much other musical talent was concentrated in the sixteenth century.

May is traditionally the month of Mary, and we will sing some of the thrillingly sensuous music Victoria composed in her honour, along with sections of his double-choir Missa Alma redemptoris mater. We will sing settings of antiphons such as Regina caeli, as well as motets that draw on the imagery from the Song of Songs and which almost qualify as sacred madrigals.

Morales was maestro de capilla at Ávila cathedral in the late 1520s; I have included two of his most beautifully-crafted Marian motets; Salva nos, stella maris includes a canon and is the perfect counterpart to Victoria's hypnotic Trahe me.

While much of our music is appropriate to Easter season, the month of May also includes Ascension Day, so as a foil to the Marian pieces I have programmed three positively uplifting motets for the feast, two by Victoria and one by 'wildcard' Jean Lheritier, a French composer who, like Morales and Victoria, spent much of his career working for the Catholic Church in Rome. Lots of challenges here, but so many potential artistic rewards: I cannot wait!"
David Allinson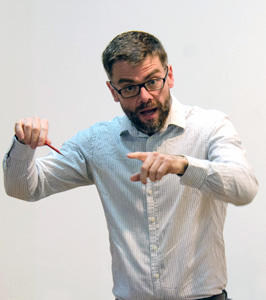 Musical Director
David Allinson is a highly respected choral trainer specialising in the history and performance of Renaissance sacred music. He read Music at St Peter's College, Oxford (where he was a choral scholar) and took his Master's with Distinction at University College, Durham before completing a doctorate on the devotional context and meaning of early Tudor sacred music at Exeter University. Read more...
Music
Mass setting
Victoria, Missa Alma redemptoris mater a8 SATBSATB

Motets for Mary
Victoria, Missa Alma redemptoris mater a8 SATBSATB [source motet for the Mass]
Morales, Salva nos stella maris a5 SAATB
Morales, Regina caeli laetare a6 SSAATB
Victoria, Regina caeli laetare a6 SSAATB
Victoria, Regina caeli laetare a8 S1 S1 A2 B1/ A1 T1 T2 B2
Victoria, Alma redemptoris a5 SATTB
Victoria, Vadam et circuibo a6 SSATTB
Victoria, Trahe me post te, Virgo Maria a6 SAATBarB

Motets for Ascension
Victoria, Ascendens Christus in altum a5 SSATB
Victoria, Surrexit pastor bonus a6 SSATTB
Lheritier, Surrexit pastor bonus a6 SSATBB

Nada te Turbe (Handel arr Allinson) a 4 SATB
As before we shall be housed in a palace for the duration of our stay - the rather splendid Palacio de los Velada. This hotel has a large comfortable bar, a restaurant and is right in the centre of the Old Town opposite the cathedral. Our rehearsal room is a short walk away.
This bit is up to you and is not included in the price. The nearest airport is Madrid. Madrid has good train connections to Avila although the bus is cheaper - and faster at certain times of day because of its directness.
What does it cost?
The course fee including the concert, seven nights B&B accommodation at the Palacio de los Velada, and four Group Meals will be £995 per person sharing. (Single occupancy supplement £35 per night). Music - which can be kept - will cost £25 and is sent out six-eight weeks in advance. Non-singers sharing a singer's room pay a reduced fee of £750.
Travel and health insurance
All singers are required to take out appropriate travel insurance and supply their policy details to us before the course begins. You should also bring an EHIC or GHIC card with you.
Any questions?
If you have any questions at all please contact Nick Couchman ([email protected]) or Emma Ford ([email protected]) . You can also ring us on 01462 372702 but please bear in mind that we are often out of the office.