A Week in Riga

- 23 July to 30 July

Directed by Nigel Perrin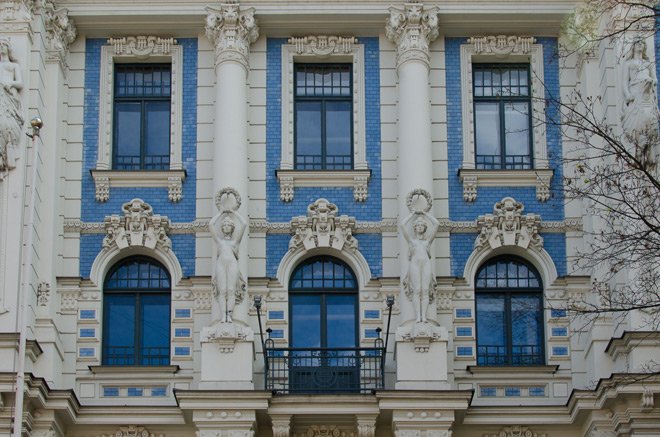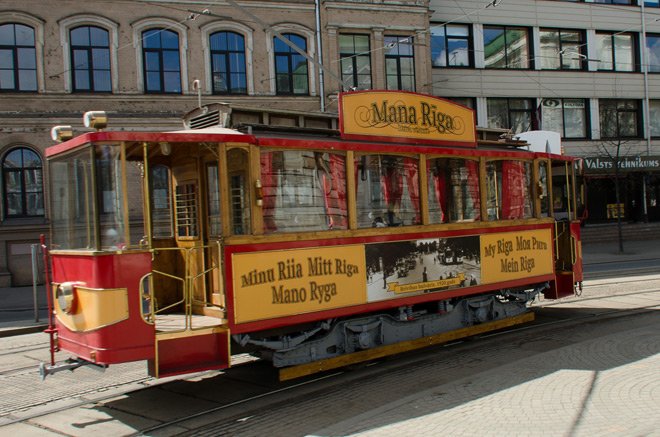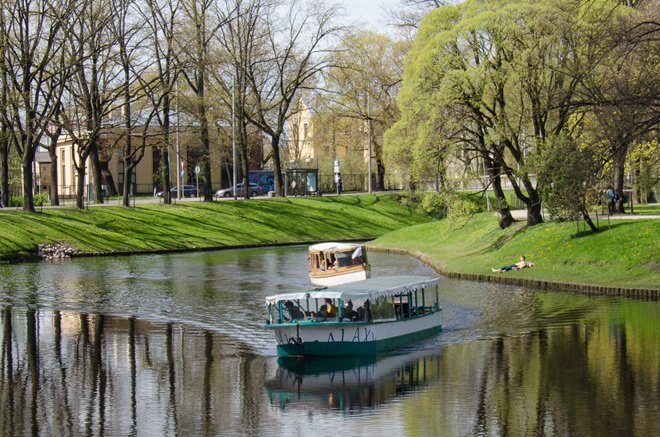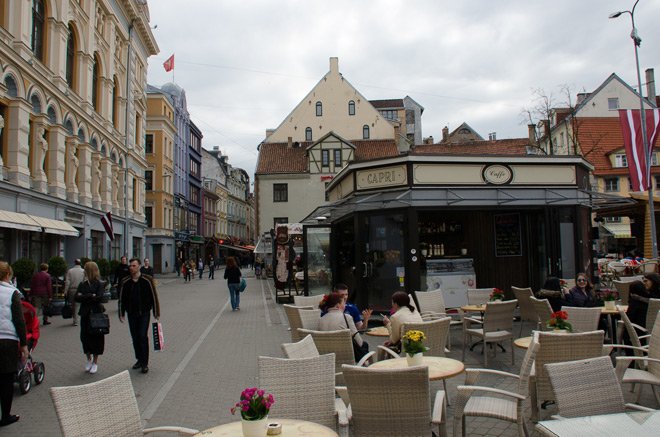 Having enjoyed our two visits to Estonia so much, it seemed about time that we took a look at Latvia. We did - and we liked what we saw.

Riga is the largest of the three Baltic capitals and probably feels the most 'Russian' The city itself enjoyed great prosperity during the 1920's and 30's as evidenced by a fine collection of Art Nouveau buildings. Riga's historical centre is a UNESCO World Heritage Site and the city was European Capital of Culture during 2014. Cultured or no, Riga is certainly a very interesting place. Its vast Central Market is housed in five former zeppelin hangers with over 3000 stands selling everything from Latvian crafts to live fish. Out and about the food is hearty, the beer is excellent, the people are friendly, and most of the bars favour live rather than canned music. Latvia is in the EU so bring your Euros.

We have chosen a nice comfy Radisson Hotel overlooking Riga's attractive central park as our base and, best of all, we have Nigel Perrin to direct our music making. As usual he has chosen a mouth-watering programme for us to work on.

Who is the course for?
This course is for experienced choral singers of all ages. Participants should have reasonable sight-reading ability and be prepared to study the music beforehand. All music is sent to participants out six-eight weeks in advance. It also helps if you enjoy good food, good company and the occasional glass of wine. We all eat together most evenings in a selection of different restaurants where everyone will soon get to know each other. Our singing holidays have proved equally popular with people travelling on their own and singing couples. The course runs from Sunday evening, when we meet for a welcome drink and dinner, to the following Saturday evening where we perform our new repertoire at a concert in one of Riga's splendid churches.

We will sing for approximately five hours each day with breaks for coffee and a long afternoon break. Thursday will be a half-day when people may choose to explore a little further afield.
Click on New to Run by Singers in the Top Menu if you haven't sung with us before.
Music
Music Pater Noster (Dubra)
Otche Nash (Kedrov)
Tribute to Caesar (Pärt)
Velichit Dusha Moya Ghospoda (Cui)
Svyshe Prorotsy (Balakirev)
Ave Maria (Celminskis
Ave Maria (Parsons)
Deliver me from mine enemies (Parsons)
Salve Regina (Cornysh)
Salve Regina (Josquin)
Tebye poyem (Tchaikovsky)
Tebye poyem (Rachmaninov)
"The programme for Riga 2017 encompasses three distinct themes. The first, as you would expect, explores the choral ambience that one might expect to discover through spending a week in a Baltic city. The second is that I have carefully chosen pairs of settings of the same text which make interesting comparison, showing the contrasts in style between Baltic, Russian and European composers. There is a third conceit – a bonus, if you like – in that the programme will also afford us a brief but delicious taste of Reformation church music, as composers of the day made the transition from Latin to English.
"Riga-born Rihards Dubra's contemporary
Pater Noster
is compared with the more familiar and romantic setting by Nikolai Kedrov from St Petersburg. A homophonic setting of the
Ave Maria
by another Latvian composer Celminskis is contrasted with the popular C16th polyphonic setting by Robert Parsons.
César Cui is our Lithuanian connection. Although his career was in the Russian military he was a prolific composer and a member of 'The Five' lead by Milij Balakirev; his setting of
Velichit Dusha Moya Ghospoda,
for chorus and mezzo solo, is wonderfully theatrical, while Balakirev's
Svyshe Prorotsy
is solemn with lots of low pedal Ds for the 2
nd
basses. William Cornysh and Josquin des Prez were exact contemporaries, both dying in the early 1520s. We compare the latter's simple take on
Salve Regina,
based strictly on the Gregorian chant, with Cornysh's more elaborate version.
"A Baltic programme would not be complete without a contribution from Arvo Pärt, born in Latvia's other neighbour, Estonia. His dramatic miniature,
Tribute to Caesar,
was extremely popular on a RunbySingers course in Tallinn a few years ago. Balakirev (see above) was also a great champion of Tchaikovsky, so we have a link through to our two lollipops. My final pairing is the contrasted, but equally passionate, versions of
Tebye poyem
(We praise Thee) by Tchaikovsky and Rachmaninov, taken from their settings of The Liturgy of St John of Chrysostom. So, a hugely varied, challenging yet fulfilling programme, demanding romantic passion, experience and skill in singing
a cappella
with confident precision."
Nigel Perrin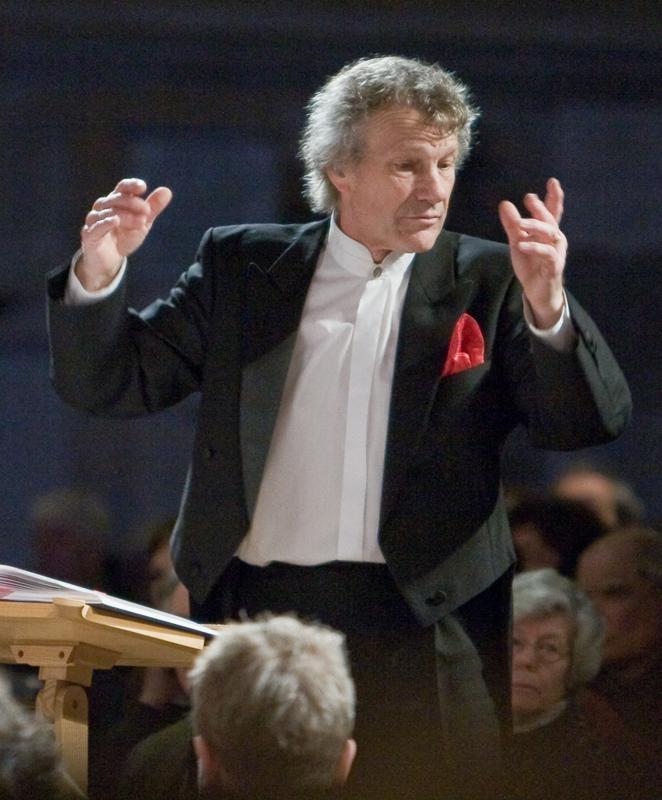 Nigel Perrin's musical life began as a boy chorister at Ely Cathedral, from where he won a choral scholarship to King's College, Cambridge, to study under Sir David Willcocks. After a short time spent singing in most of London's professional choirs, Nigel became well-known as the high voice of The King's Singers and for the next eleven years he travelled the world on concert tours, recorded some twenty-five albums and appeared in countless television shows with artists as diverse as Kiri Te Kanawa and Cliff Richard.

This background and experience formed the basis of his current international career – conducting, directing choral workshops and summer schools, adjudicating and teaching. He is a member of staff at Wells Cathedral Specialist Music School, where he works with young developing voices and trains the Chapel Choir. read more...


What does it cost?
The course fee is payable in two stages - £195 on registration and a further £695 no later than eight weeks before arrival in Latvia. This covers tuition, the concert, seven nights accommodation with breakfast in a modern four-star hotel, four evening meals but not transport. This price is based on two sharing so there will, be a single occupancy supplement of £30 a night. Music - which can be kept - will cost £25.00. Non-singers, sharing a singer's room pay a reduced fee of £495. Invoices and joining information will be sent out with the music.
Getting there
This bit is up to you and is not included in the price. Riga International is the nearest airport and is only about 12 miles from the City Centre so getting from the airport to the hotel is quick and painless. There are also excellent rail links for those who don't like airports.

Travel and health insurance
Insurance is not included so we strongly recommend that all singers take out their own cover. You should also bring an EHIC card with you.
Any questions?
If you have any questions at all please contact Nick Couchman (nick@runbysingers.org) or Emma Ford (emma@runbysingers.org) or ring Nick during office hours on 01462 893972. The office is not always staffed but if we are not there, leave a message and we will call you back promptly.
Other Singing Holidays